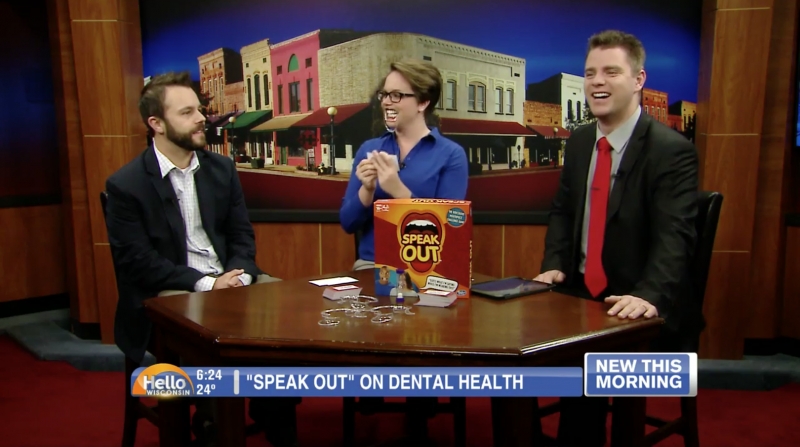 As seen on WEAU 13 News:

We are kicking off the holiday weekend and that means you are likely taking in all kinds of goodies! What does that do for your teeth? We sat down with a local dentist to help you avoid making an emergency dental visit this weekend but don't worry, he's joined the show to not only warn us about sugar, but have some fun too!
Dr. Tony Martin with Martin Dental joined Hello Wisconsin with a few gentle reminders for the holiday party season.

Dr. Martin says, "We all know that sugar is everywhere right now. Cookie platters and candies are probably coming to your office like crazy. Just remember, chew some sugar-free gum after those goodies. If you have fillings, remember you can lose a filling with some of the stickiest goodies from your stocking. You can even crack your teeth on peanut brittle. If you are in charge of opening up the champagne, point the cork away from your face! Your kids are probably taking in more sugar and staying up late, just remember to keep them in their brushing routines over the holiday break!"
We also decided to take part in a fun game which Martin Dental's played and revealed on their Facebook page. They had a challenge based on the popular "Speak Out" games and they made a funny video with a patient challenging Dr. Martin and his staff! We wanted to see who could understand Courtney better - me or Dr. Martin. We've got original phrases and a timer whoever ends up with the most points after one round of 5 phrases, wins!
The phrases that were guessed were, LE Phillips Memorial Library, Fairfax Pool, Banbury Place, Monica the Meteorologist, and Pine Meadows Golf Course. Dr. Martin won!

Martin Dental was founded in 2010 as a general and cosmetic dental office in Eau Claire, Wisconsin. Dr. Tony Martin offers a full array of dental services including dental exams, dental implants, root canals and several other dental services to help patients maintain healthy teeth. Martin Dental is also the Chippewa Valley's first dental spa, which means every visit includes the option to select any of our complimentary spa amenities to feel relaxed and comfortable each and every time you receive dental care!